Christian Castle
Lifeguard Olympics
August 7, 2022- Wet-n-Wild Waterworld 7am-11:30am
REGISTRATION IS CLOSED.
REGISTRATION DEADLINE: Thursday, July 14, 2022. No LATE ENTRIES.
The Lifeguard Olympics is a competitive, annual event that provides lifeguards from organizations throughout the city an opportunity to practice lifesaving skills. The competitive event will highlight the training and duties that lifeguards experience on a daily basis in their day to day jobs.
2016 Lifeguard Olympics Video
---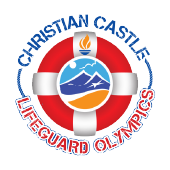 July 14, 2022 REGISTRATION IS CLOSED
8:00 AM - 12:00 PM | Check in at 7:00 AM On August 7, 2022 at WET N WILD WATERWORLD
TEAMS CONSISTS OF 4 LIFEGUARDS WITH A MINIMUM OF ONE FEMALE AND ONE MALE
ENTRY FEE IS $35 PER TEAM, DUE AT ONLINE REGISTRATION
Skill challenges which include a Mass Casualty Exercise, Shallow Water Back Boarding, Backboard Treading, a two-minute Drill Rescue and a Tow Relay.
---
---